Ecommerce
In its simplest form ecommerce is the buying and selling of products and services by businesses or consumers over the World Wide Web.
People use the term "ecommerce" or "online shopping" to describe the process of searching for and selecting products in online catalogues and then "checking out" using a credit card and encrypted payment processing. Internet sales are increasing rapidly as consumers take advantage of
lower prices offered by vendors operating with less margin than a bricks and mortar store
greater convenience of having a product delivered rather than the cost of time and transport and parking of going to a store
sourcing product more cheaply from overseas vendors
great variety and inventory offered by online stores
comparison engines that compare and recommend product
auction sites, where they did for goods
The graph below shows increases in ecommerce spending in the last 4 years in Australia. This trend is set to continue with uncertain outcomes from traditional retailers.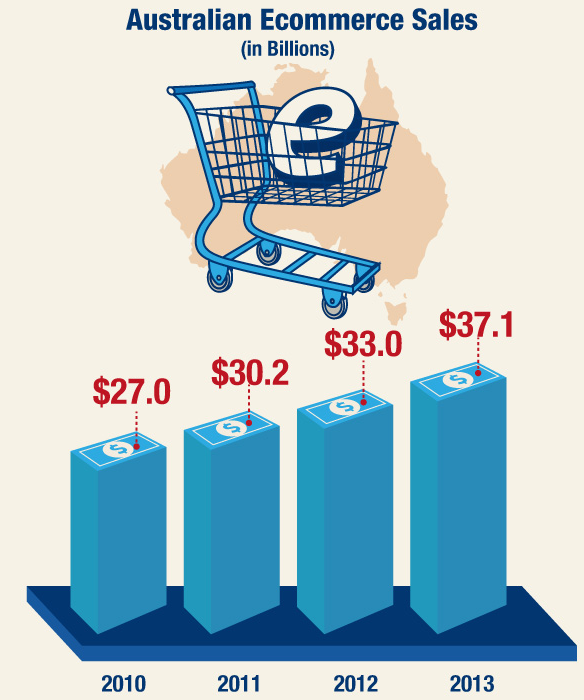 Benefits of E-Commerce
E-commerce can provide the following benefits over non-electronic commerce:
Reduced costs by reducing labour, reduced paper work, reduced errors in keying in data, reduce post costs
Reduced time. Shorter lead times for payment and return on investment in advertising, faster delivery of product
Flexibility with efficiency. The ability to handle complex situations, product ranges and customer profiles without the situation becoming unmanageable.
Improve relationships with trading partners. Improved communication between trading partners leads to enhanced long-term relationships.
Lock in Customers. The closer you are to your customer and the more you work with them to change from normal business practices to best practice e-commerce the harder it is for a competitor to upset your customer relationship.
New Markets. The Internet has the potential to expand your business into wider geographical locations.
B2C – business to consumer
In the Australian and New Zealand context B2C (business to consumer) trading activity has been slow to take off as at first consumers had doubts about the security of credit card transactions.
Initial B2C trading focused on music CDs, software and books – items which were compact and easily shipped and where prices could be slashed once the retailer's cut was taken out of the margin. The Amazon book store would be a good example of this. These products pushed the perimeters of the market out for goods bought on-line.
Books and CDs are relatively generic products. A CD bought in the US will have the same music and quality as one bought locally (the exception is the cover art) and so there is no doubt in the consumers mind exactly what the product is. This is not the case with clothing, where sizes can confuse the purchase decision… and where tactile senses figure strongly in the purchasing decision.
Ebay has really transform purchasing behaviour on the web. Many people have made their first ecommerce transaction on Ebay. Many people sell on Ebay too, given raise to the work-from-home/drop shipping model of ecommerce.
Interestingly though B2C transactions of previously localised or hard to find products can be extremely strong. If you have a unique product that is highly relevant to a niche audience, you are likely to do very well on the web.
Although sales are increasing rapidly on the Internet, the volume of turnover figures continue to fail short of industry estimates. But as retail web sites become more navigable and privacy policies are displayed, more people will be drawn to Net-based purchasing by lower prices and convenience.
B2B – business to business
On the Internet, B2B (business to business) is the exchange of products or services between businesses rather than between businesses and consumers.
Although early interest centered on the growth of retailing on the Internet, forecasts are that B2B revenue will far exceed B2C revenue in the near future.
According to studies published in early 2000, the money volume of B2B exceeds that of B2C by 10 to 1. Over the next five years, B2B is expected to have a compound annual growth of 41%.
Payment Gateways
Both PayPal and Paymate offer credit card to bank account payments. Using one of these services you can invoice a customer, they can pay on Paymate and the funds will be deposited in your bank account … less a transaction fee.
Unlike a credit card merchant facility you will not have ongoing, minimum monthly fees… and the transaction fee is better than what most card companies offer small merchants. Additional these service are being backed into other ecommerce sites and shopping carts. Ebay for example uses Paypal to process some payments.
The Rise and Rise of Auction Sites
Auction sites such as Ebay and TradeMe have done an enormous amount to get ordinary people involved in online trading. Today many Ebay merchants are establishing their own web sites to avoid Ebay and Pay Pal fees. They have learnt about how to present their product in their Ebay store and what issues are important to their customers in purchasing their product and now they are ready to start their own web site.